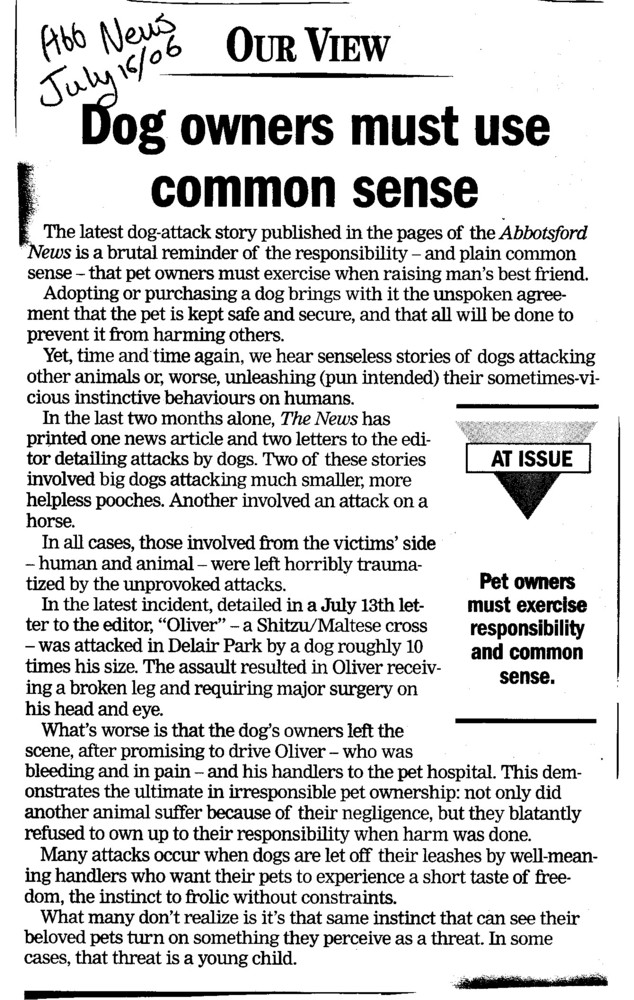 -------------------------------------------------------------------------------------------------
Re: Dog owners must use common sense
With regard to the, 'Our View' piece, 'Dog owners must use common sense' in the July 18, 2006 issue of Abbotsford News, what does "common sense" mean? How can the term be applied to dog attacks, a subject so extremely misunderstood? It is not common sense for someone severely lacking in integrity to responsibly manage their dog or to stick around and help the victim of their dog's attack if they can escape without consequence.
It seems pointless to demand "common sense" while barely acknowledging "what many don't realize". It's difficult to demand responsibility without knowing what owners and their dogs are capable of controlling. Public understanding of the issue of dog attacks is fuelled chiefly by myth and emotion. Dog attacks are preventable on and off leash. The cause of all dog attacks is human.
The level of control that an owner can achieve on or off leash is widely underestimated. It is make believe to pretend that animals will not get loose on occasion. Police loose poorly trained dogs which then attack innocent victims as do zoos, wildlife refuges, dog pounds, etc. It happens, whether by unintentional mishaps or freaks of nature. To place the emphasis on restraints is to ignore owner obligation to provide a well educated safe animal in all circumstances.
The key to preventing dog attacks is owner accountability and education. One has to have some level of sense before it can become common.
Sandra Allison